For the upcoming 2021 season, you will be riding our high-quality bikes from Forme. We are very proud that we have all our bikes from a UK based company.
Our hire bikes are NEW each year and carefully cleaned, maintained and checked before every trip to ensure safety and reliability.
We maintain an online booking system to make it is as easy and convenient for you to book your preferred bike and date (duration).
We hire out Hybrid & Mountain bikes during the season. Our Bike Fleet is likely to grow within the season. Availability can be seen on our online booking page.
From Spring 2022 we offer additionally to our normal fleet e-Bikes for Road and Off-road adventures.
Helmets, locks, pumps and repair kits are supplied free of charge with each hire.
---
Hybrid Bikes – I want mostly road and a little bit off-road riding, but nothing too crazy!
Hybrid bikes are much quicker than MTBs on the road but can deal with well-maintained tracks too. They are ideal for a cycle tour of the Highlands.
---
The Winster blends the speed of a road bike with the control of a mountain bike making it your ideal partner for year-round fitness. From stress-free commuting to a peaceful Sunday meander through the countryside, the Winster offers a multitude of uses.
The City version also comes equipped with dirt sheltering mudguards, grippy wide tyres and alloy pannier rack for all your cargo needs.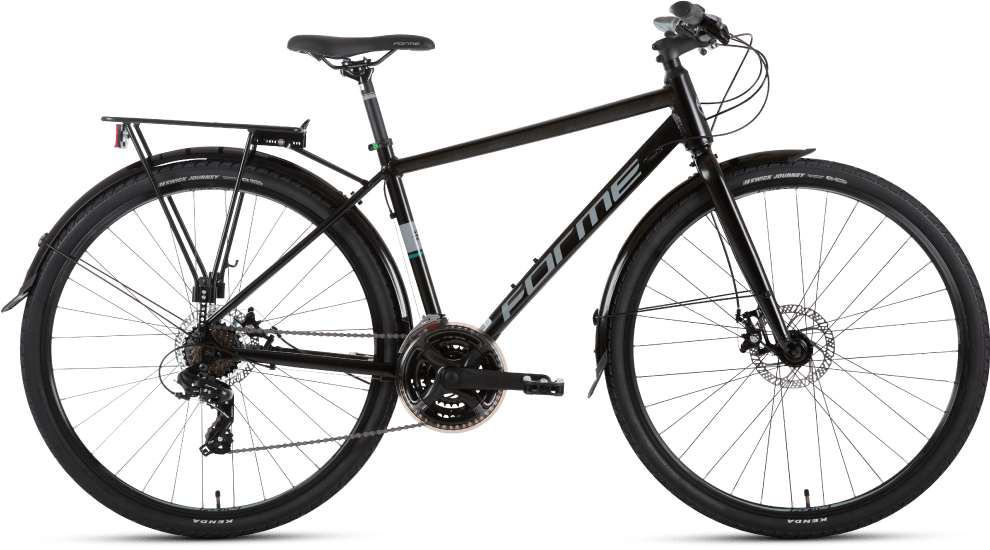 HYDROFORMED ALLOY FRAME AND FORK
SHIMANO 21 SPEED DRIVE TRAIN
32H ALLOY 6 BOLT WHEELS AND KENDA TYRES
POWERFUL TEKTRO CABLE DISC BRAKES
FORME ALLOY COCKPIT
MUDGUARDS & RACK
WEIGHT = 14KG
---
Mountain Biking – I want mostly off-road and a bit of road riding
For the Loch Achall (further into the valley), Strath Vaich, Inverbroom and other off-road routes you'll need one of our mountain bikes. Mountain bikes aren't as quick as hybrids on tarmac but offer greater comfort and control on rougher terrain.
---
Our go-to mountain bike for off-road adventures including the Loch Achall Trail is the 2021 Forme Curbar 3. The Curbar is your entry into Mountain biking.
With strong hydraulic brakes, a wide range of gears and a lightweight aluminium frame, it is ideal for smoother off-road trails and long-distance paths.
HYDROFORMED ALLOY FRAME
SR SUNTOUR XCE 100MM FORK
SHIMANO 2 X 7 SPEED DRIVE TRAIN
32H ALLOY 6 BOLT WHEELS
KENDA KADRE TYRES
FORME ALLOY COCKPIT
---
We highly recommend booking in advance. Ullapool can be bustling in high season, we are on a very scenic route through the North-West Highlands and especially the summer months can be quickly booked up.
---
Bike Fleet Prices for 2021
| Duration | Hybrid – Winster 2 City | Mountain Bike – Curbar 3 |
| --- | --- | --- |
| 4 h | 20 | 20 |
| 8 h | 35 | 35 |
| 2 days | 55 | 55 |
| 3 days | 75 | 75 |
| 4 days | 90 | 90 |
| 5 days | 105 | 105 |
| 6 days | 120 | 120 |
| 7 days | 130 | 130 |
Helmets, locks, pumps and repair kits are supplied free of charge with each hire.
What is included:
Bike you hire
Helmet
Lock
Pump
Repair Kit including a spare tube
Leaflet for local routes or as a PDF
Riders Manual
What is excluded:
Insurance (we highly recommend to have travel insurance in place which covers cycling)
Pick up / Drop Off (can be booked on request for an extra fee)
Family Offers 2021 with our Bike Fleet
For Family offers please contact us via email to book with us. For a full day (8 h) we have the following offers:
Family of three (2 adults & 1 child*) – £90 for 3 bikes (£15 saving)
Family of four (2 adults & 2 childs*) – £99 for 4 bikes (£41 saving)
*aged under 16 years
---
Transport of Bikes Prices 2021
This is an on-demand service and needs to be requested at the time of booking.
All transport enquiries have to be done either by phone or email.
This is mostly to transport the bikes for you to routes which are further afield. But we will be able to transport bikes and clients if needed (if you don`t have a vehicle). Please be aware this service may not always be available.
| Destination | One-Way | Return |
| --- | --- | --- |
| B&B/Hotel Drop off / Pick up within 3 miles of Ullapool | £5 | £10 |
| Ullapool – Inverlael | £10 | £20 |
| Ullapool – Achilitibuie | £30 | £50 |
| Ullapool – Blackwater Bridge | £30 | £50 |
Transport Price List
If you need any other destination not named please email us at info@ullapoolbikehire.co.uk.
We try to endeavour to help where we can and answer as quickly as possible.